Accountmate Cloud Services
AccountMate Cloud Computing with SQL, Express & Capabilities
With AccountMate's cloud computing, you can minimize your IT infrastructure and costs associated with having to purchase and maintain computer hardware. Cloud computing is a viable option for those who decide that a remote access strategy is more practical than having an on-premise business financial suite.
The same AccountMate intuitive user interface is available through a monthly software rental option. Your financial systems are housed from a secure environment – safe from fire, theft, flood and natural disasters – and can be accessed 24/7. AccountMate's cloud option still offers customization through AccountMate Solution Providers. AccountMate's SaaS allows you to focus on your core business rather than worrying about the overhead of running a data center.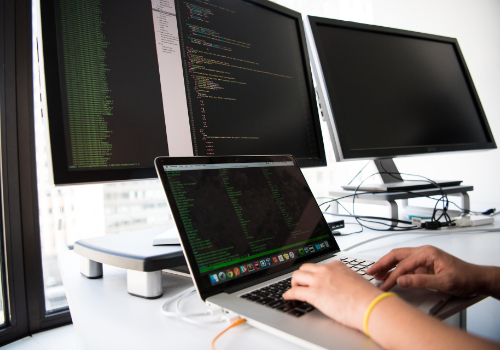 What exactly are AccountMate Cloud Services?
A unique solution exclusive to AccountMate providing clients with self hosted or proprietary hosted ERP solutions and applications. Easily one of the best platforms to run your company on, AccountMate Cloud Services provide peace of mind to clients seeking a more automated approach to ERP solutions while also allowing third party integrations and applications instead of solely relying on AccountMate specific functions and applications.
Why do you need it?
Prospective clients can expect AccountMate Cloud Services to cover every need they have or be extended to just like many other ERP solutions but what makes this platform different is its ability to be self hosted or cloud hosted. Managed hosting provides you 24/7 access to our expert host management team in addition to a support ticket system. Harwood Consulting is also deeply tied to AccountMate and also provides clients with similar services even for self hosted installations. This dependable and reliable service provides the backbone for peace of mind in any event to our clients.
What is AccountMate Cloud Services good for?
AccountMate Cloud Services are designed ideally for:
Small to medium sized businesses.
American based companies.
Reliable cloud based hosting requirements.
Clients seeking an alternative to Microsoft products.
Companies without hige IT and hardware departments.
Companies seeking more automated business management software out of the box.
Ok, so what's included?
AccountMate Cloud Services include a robust ERP platform complete with CRM and financial management tools. In addition, clients can also expect the following:
Fully Customizable Functionality.
Secure Data Environment.
Easy System Growth.
Fixed Pricing to Level Costs.
Off-site Remote Access.
Zero System Downtime.
Data and Back-up System Monitoring 24/7.
High Expertise Level Support 24/7/365.
Hardware and Tech Support Maintenance Elimination.
Third Party Application Development.
Our Mission
Our Mission is to provide quality solutions that provide efficient cost-effective business solutions. My organization has been providing companies like yours with tailored business management resource solutions for accounting, ERP, human resources and payroll, fixed assets management, contact management, warehouse management and manufacturing since 1991. The software solutions that comprise our portfolio are all industry leaders in their respective classes. The key difference is the expertise and experience of my staff. I've been fortunate to find truly remarkable professionals who understand business as well as software. They've contributed immeasurably to the success of Harwood Consulting and stand ready to do the same for your organization.
In-Depth AccountMate Cloud Services Details
AccountMate offers two private cloud computing options as part of its SaaS and hosted enterprise-level solutions:
Software-as-a-Service (SaaS) –- AccountMate software is delivered as an application via the internet using a multi-tenant architecture, which means data from multiple companies is stored on the same server and separated by a partition to prevent the data from migrating from one company to another. This option enables clients to focus on business continuity while reducing upfront investments on servers or software licensing.
Hosted –- AccountMate software is purchased, owned or leased by clients and installed on physical servers at a secured data or hosting center offsite. Hosted solutions are implemented in the same manner as if it was installed onsite, and can be accessed immediately 24/7.
Fully Customizable Functionality — AccountMate's highly customizable capability is still offered through cloud computing. AccountMate Solution Providers remain the trusted consultants that can provide installation support and requested modifications for their clients.
Secure Data Environment — Located 100% underground in a concrete style bunker, minimizing physical vulnerabilities, the facility is safe from fire, theft, flood and natural disasters.
Easy Growth — You can increase capacity, functionality or capabilities without investing in new infrastructure, training new personnel or licensing new software.
Level Costs — With fixed monthly cost server hosting, all the costs are fixed and easily budgeted. There are no increased service costs or hardware and software replacement costs.
Off-site Remote Access — You can immediately access the remote secure environment 24/7.
Eliminate System Downtime — Back-up diesel powered generator power systems and a redundant architecture with access to dual power sources eliminate system downtime for extended time periods.
Data Storage, Back-up and System Monitoring — A protection solution providing safe, frequent and effective storing with a reliable, automated back-up and recovery system protocol is established so you don't have to manage, monitor or resolve data back-up incidences. To ensure the facility's networks operate at peak efficiency, skilled technicians monitor network performance 24 hours a day, 365 days a year.
High Level Expertise — The team managing your hosted server is responsible for a large number of such servers. They are experts in this technology and service delivery, providing you with a more advanced service and support.
Eliminate Hardware Technical Support & Maintenance — AccountMate's cloud computing solutions is fully managed and maintained so you don't have to provide resources to manage IT support and ongoing system maintenance.
Schedule A Consultation Today!
Locations Served
Harwood Consulting has been providing companies in the Tampa Bay area as well as nationally and internationally including the Caribbean and Cayman Islands with tailored business management resource solutions for accounting, ERP, human resources and payroll, fixed assets management, contact management, warehouse management and manufacturing since 1991.